Beauty & Self
Books & Music
Career
Computers
Education
Family
Food & Wine
Health & Fitness
Hobbies & Crafts
Home & Garden
Money
News & Politics
Relationships
Religion & Spirituality
Sports
Travel & Culture
TV & Movies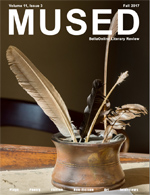 Autumn is a season for counting our blessings. For realizing just how much we have in life where so many others are without. It can often be easy to take things for granted. Things which millions of people desperately dream of having. By pausing for a moment, and looking around with mindfulness, we can find a new center. Begin with fresh energy.

Enjoy the Mused Autumn Equinox 2017 Issue



Parenting Kids with ADD During Holidays
Attention Deficit Disorder - Connie Mistler Davidson, Editor

Especially during the holiday season, parenting kids with Attention Deficit Disorder, can be a challenge. Traveling to different places to see family and friends can be a time of joy, but it can also test the strongest nerves. These articles can be helpful in parenting kids during the holidays.




A Dozen Fresh Turkey Sandwich Ideas
Sandwiches - Connie Mistler Davidson, Editor

There are certain times during the year when there is an overabundance of leftover turkey in the fridge. It's great for sandwiches, but sometimes you need some fresh new turkey sandwich ideas. This article is for you!




Death to Diabetes Book Review
Reading - Connie Mistler Davidson, Editor

There are so many reasons to read for information. Cookbooks teach us more than how to create edible masterpieces. Nutrition and health books abound. One of the best of those that I have ever read is Death to Diabetes, by DeWayne McCulley, a must-read if you have a loved one with diabetes.




Axing Art / Defending Balthus + the MET
Art Appreciation - Camille Gizzarelli, Editor

Who could imagine that art would once again be deemed so offensive as to be asked to be removed from public view? Remember 'degenerate art' during WWII? I stand with the MET museum: Balthus stays. My comments.




Chocolate Kiss Cookie Recipe
Chocolate - Brandii Lacey, Editor

Chocolate kisses plus peanut butter combines for a tasty, festive treat!




Start Planning Your Next Holiday Family Getaway
Cruises - Nancy Schretter, Editor

If you're dreaming of getting away for the holidays, you're not alone. Many parents and grandparents would like to take the family on a holiday vacation. There are so many great options from which to choose. Here are some tips and ideas to help you start planning your next holiday family getaway


| Google+ |
E D I T O R R E C O M M E N D E D
Buddha´s Daughters


Buddha´s Daughters: Teachings from Women Who are Shaping Buddhism in the West is a collection of teachings compiled and edited by Andrea Miller, a writer and editor at the popular Buddhist magazine Shambhala Sun. It includes beautiful teachings from some of the most prominent women teachers in the West, including Lama Tsultrim Allione, Sharon Salzberg, Tara Brach, Pema Chodron, and more.
The Simple Way to Invest Successfully


Does investing seem too complex? Are you confused about how to invest successfully? Many people fail to invest well because they make money issues too complex. Many others never get started investing because they don´t understand the basics of stocks, bonds, and mutual funds. Investing doesn´t have to be difficult.
Your Adoption Guidebook


Considering adoption and not sure where to start? This handy guidebook is for you! You'll find everything you need to decide if adoption is the right path and then learn how to begin the process.